Painting, Cleaning, & Remodeling Services
Refresh Your Space;
Inspire Your Soul.
Give your living or working space a new lease on life.
We'll transform your home or office so you feel energized by your surroundings.
We treat your space like our own. Our professional painters, remodelers, and cleaning staff will get the job done without the mess or hassle.
This way, you can enjoy all of the moments that matter…in the spaces you love.
or call us: (864) 449-8301
With 20+ years of experience, we're the experts.
You Can Count On Us.
We'll refresh your space in 3 ways:
The fastest, most economical way to transform the energy of an entire room
Save the labor and frustration of doing it yourself, and trust the experts
Regular cleanings ensure everything feels fresh and tidy… and leave you free to enjoy life
Restore spaces that could use some love with our deep cleaning options
Custom-build an environment you're proud to show off
Give yourself a new and modern space, without the hassle or expense of moving
We're happy to honor all special requests. Let's have a chat to find out more about how we can meet your needs.
ADS Painting & Cleaning:
Greenville's Experts in Transforming Spaces
Our team of experts will take the time to get to know your preferences & needs. This way, we guarantee you'll love the end result.
We…
Offer flexible scheduling.
Protect your belongings from damage.
Bring 20+ years of Expertise.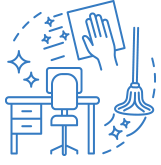 ⭐⭐⭐⭐⭐
Just top-notch!! So easy to work with very accommodating with details – will work with customers schedule.! Need I say more!
⭐⭐⭐⭐⭐
Delivered exactly what they said they would and then some. I was very impressed by the attention to detail.
⭐⭐⭐⭐⭐
Cristiane and her staff have been providing us with extraordinary cleaning services for over 5 years. Her team is polite and always timely and the attention to detail is spot on.
⭐⭐⭐⭐⭐
Top-notch cleaning service for either regular service or for special projects Always very professional.